Calluna vulgaris Heather CCC DD N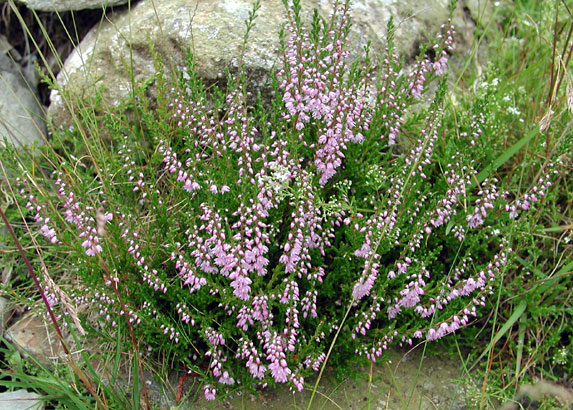 Acid loving Calluna vulgaris (Heather or Ling) covers the peaty uplands of Great Britain with its pale pink/purple flowers in late summer. If you haven't travelled through the the Scottish Highlands when the Heather is out, try to go once in your life - the acres upon acres of flower covered hillsides are one of the wonders of the North. The darker purple and even more spectacular type of Heather is Erica cinerea which flowers earlier in the year.
Heather is one of the commonest plants in the British Isles with even stronger concentrations of the plant the further north you travel. There are only a few places around Lincolnshire, Cambridgeshire and the east Midlands where it doesn't grow.
Above car park at Cwm Idwal 25th July 2002. Large image Helsby Hill, 5th September 2005
Added on 22nd Oct 2004, amended Dec 11th 2004, updated 27th Sept 2006 & 12th Nov 2008, updated 10th March 2010