Astragalus alpinus Alpine Milk-vetch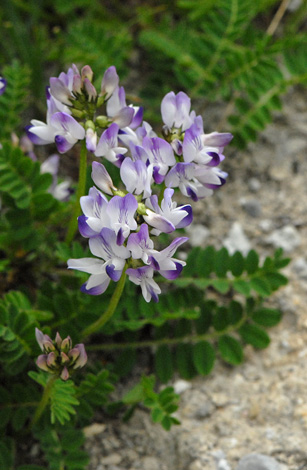 One way of describing this plant is that it looks like a larger version of the more familiar (to British botanists) version of Astragalus danicus (Purple Milk-vetch) but as is often the case when in Europe, this was a large healthy plant with flowers much bluer and more striking than Astragalus danicus.
Astragalus alpinus is a northern hemisphere species which can be found not only on alpine sites as its name suggests, but near lakes and in woodland close to or even in northern tundra. Some species of Astragalus are poisonous to domestic animals and are collectively known as Locoweed in the States but since Astragalus alpinus is actually grazed by Caribou, mountain hares and other animals of the far north there is perhaps far less of the toxic alkaloid Swainsonine present in the leaves and flowers.
Slopes of Piz Nair, Engadine, Switzerland 10th July 2010
Added on July 26th 2010, updated 18th July 2013