Huperzia selago Fir Clubmoss C DD N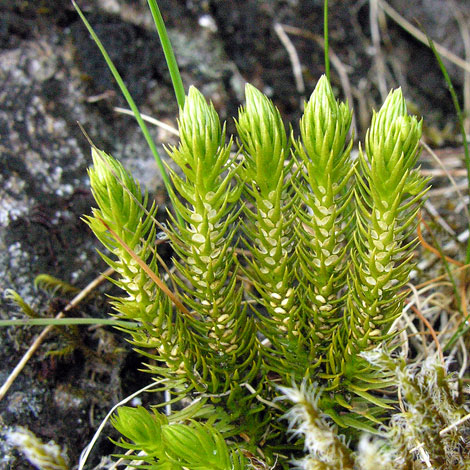 I find this in mountain or sub-montane regions but much more often it grows in a crack on a rock and seems at home on very barren ground. It isn't classed as a rarity but you won't find it unless you walk in the hills and amongst the rocks.
H. selago is found in the hills of Dartmoor, the Pennines, the central and northern hilly regions in Wales, in the Lake District and high Pennines and it is common in the mountains of Scotland. It is rarely found in the southern and eastern England where the hills are too low. In Ireland it is found as expected in the hilly regions of the north and south.
LHS: Snowdon, North Wales, 31st May 2002, RHS: Fraoch-bheinn, Scotland 8th June 2006
Added on September 20th 2004, amended January 27th 2005, updated 11th April 2009, updated 7th April 2010, updated 7th July 2014