Caladenia varians ssp varians Common Spider Orchid Endemic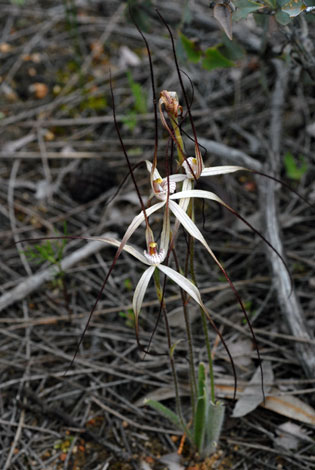 As its name suggests this is one of the commonest Spider Orchids in western Australia found in a wide belt from above Kalbarri to Israelite Bay. There are now twelve sub species of Caladenia varians some of which are confined to small geographical areas but quite a few exist together just to make identification difficult. C. varians is characterised by the very long petals and sepals and often forms clumps.
In the LHS photo the flowers are seen from the front side and back.
| | | |
| --- | --- | --- |
| | | |
| Caladenia varians ssp varians whole | Caladenia varians ssp varians flower | Caladenia varians ssp varians close |
W.A. Flower Society tour: LHS Harrismith reserve 15th Sept. RHS Scott Rd 14th Sept 2007
Added on March 21st 2008, updated 11th November 2008, updated 10th March 2010, updated 1st February 2013