Orobanche pubescens Hairy Broomrape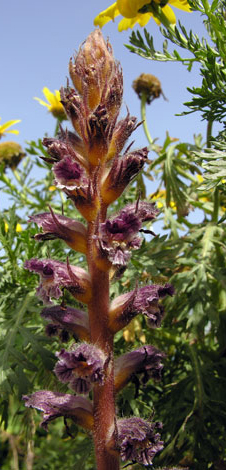 Orobanche plants are more difficult to identify than you might think. The colour of the flower varies more than most books say and as the photographs show At first I thought this plant was O. alba but most texts give say this a short plant. The one photographed one was quite tall.
It has now been identified as O. pubescens which was my original guess because it seems to have many of the characteristics which include the shape of the lower lip, the purple stigma and the hairiness. However the Gozo specimen is the "wrong" colour (purple and much deeper colours) compared with many other pale yellow O. pubescens photos and the one from Crete. This only goes to show that colour means little in the Orobanche genus.
Many thanks to Holger Uhlich for identifying the Gozo plant.
LHS: Village of Ano Stallos, Crete 7th April 2007 RHS: Verge of country path, near Gharb, Gozo 24th March 2005
Added on 8th February 2007, amended 16th May 2008, updated 23rd January 2011