Cottage(Near Maeshafn, North Wales)
The forecasters got this one right. For days they have been saying that bright weather would arrive at the end of the week with temperatures almost into double figures. The very mild weather has been accompanied by dense cloud cover which keeps us warm for January and February but leaves very dull days as the sun is so low in the sky.
I decided to take a full pack of my new photographic kit to an inland North Wales wood where I hoped to find some of the early Spring flowers which we'd been hearing about on the news. Violets, Daffodils and various member of the primula family were shown on TV to be in flower but it was never obvious how lose to civilisation these plants were.
I stopped at a village well before the woods where in the past I had found Viola odorata (Sweet Violet), the first of the Spring Violets, on a roadside bank. But first I paused at a bridge where a delightful white cottage basked in the Spring sunshine.
Two geese (big ducks?) came to the water's edge and drank before swimming upstream on the river. Over the river on the opposite bank hung the branches of an Alnus glutinosa (Alder) so I had a good look at the catkins which are always visible throughout winter, to see if there was any sign of them breaking open - a sure sign of a very early Spring. They were in tight bud just as they would normally be.
From the village of Maeshafn I joined the main road again and went over the hills of the Clwydian range towards Ruthin. Cilygroeslyd is a few miles south of Ruthin and I took the back roads hoping to see signs of Spring flowers on the banks which are home to Primula vulgaris (Primrose). No luck. There was no sign of early flowering of wild plants in the country although there were plenty in the cottage gardens I passed.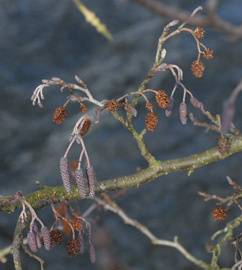 Alnus glutinosa(Alder)
Arriving at Coed Cilygroeslwyd I put on boots, my special photographers haversack containing all the gear in and a walking stick. This wood has established itself on limestone pavement and limestone becomes very "soapy" in wet winter weather. Whatever plants I might find I would certainly find Galanthus nivalis (Snowdrops) which flower in large numbers here. The humble Snowdrop is not definitely a native of the United Kingdom according to Professor Stace but he suggests that if it is native anywhere then Mid Wales might well be its natural home. This isn't too far from mid-Wales so I like to think these are originals.
First though I always look at the verges near the wood where in the past drifts of Viola odorata (Sweet Violet) and Viola riechenbachiana (Early Dog-violet) have been seen with the first flowers of Geranium lucidum (Shining Crane's-bill), Primula vulgaris (Primrose) and Helleborus foetidus (Stinking Hellebore). Of these I would expect to find H. foetidus which is a winter flower but the others would be signs of an early spring.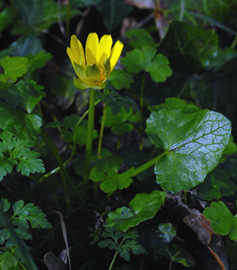 Ranunculus ficaria(Lesser Celandine)
I found two Ranunculus ficaria (Lesser Celandine) and a small Helleborus foetidus (Stinking hellebore) but no sign of the others. I have found Primula vulgaris (Primrose) in flower very early in past years but all these plants were only just beginning to shoot with new leaves and only a few had tight buds in. They will flower at the usual time.
Into the wood I began to look for bursting buds on the Taxus baccata (Yew). This too is an early Spring Plant and it would not be unusual to find it with flowers half way through February. No luck again. Tight buds - a month away at least.
Mercurialis perennis (Dog'-mercury) is one of those perennials which will take advantage of a warm winter and I found it in flower on a verge of the main A56 for the last week hunt. The Last Week hunt is a Wild Flower Society competition to find as many flowers in bloom in the last week of October as you can. I broke all my records in October 2006 recording over 200 flowering plants which shows, I think that my flower spotting skills aren't bad.
There were large numbers of this plants and many were in flower. Mercurialis perennis (Dog's Mercury) is a dioecious plant which means that the male flowers are on one plant and the female on a different plant. Most of the plants in this wood are male but there are a few female which are obvious much later when you can find the fruit. The male flowers consist of upward pointing spikes with no petals but some tiny anthers ad the trick for the flower photographer is to get these tiny anthers in focus.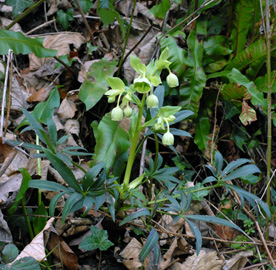 Helleborus foetidus(Stinking Hellebore)
Mercurialis perennis(Dog's Mercury male)
The problem with all catkin flowers is that they are usually anemophilous which means they spread their pollen by wind and so are designed to wave about in the slightest breeze. This is bad news for a photographer - it's hard enough trying to stead the camera without contending with natural forces.
The catkins of Corylus avellana (Hazel) are even more difficult to find motionless as they dangle from delicate twigs and even your breath can disturb them.
I looked for the later flowering female flowers which on this plant grow on the same twigs as the male but no luck.
Finding catkins on Corylus avellana (Hazel) is another of those events which to the non-botanist can seem like a sign of early Spring but this plant will produce its flowers whenever the winter is mild and is never an indication of early an Spring.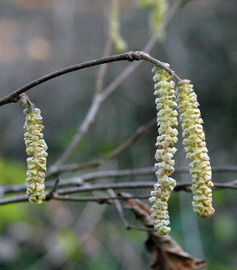 Corylus avellana(Hazel catkins)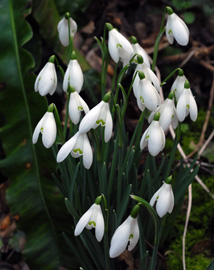 Galanthus nivalis(Snowdrops in Cilygroeslwyd)
So what can you conclude from this about our mild winter and the earliness of Spring. Galanthus nivalis(Snowdrop in this wood. (Coed Cilygroeslwyd)
In this wood there were a few signs that thing will be a little earlier than usual but the dominating "early" events publicised on television, so far have been observed much closer to human habitation so we need another few expeditions to see if this is typical or if this wood is in a cold pocket.