Diary 2005
December 20th
There are now 1070 plants on the British Isles pages. There are probably a few more I could add but the photos aren't that good so now it is time to update the Continental pages.
December 12th
A photo of Trifolium suffocatum (Suffocated Clover) which had finished flowering was the 1050th plant to be put on site and I still haven't finished UK plant photos taken in the summer of 2005. After that I will have to work hard trying to identify more of the nearly 100 plants whose photos I took on the Maltese Isalnd of Gozo in Spring. So far I've identified about 50. After that there are quite a few scenery photos which are worth displaying.
November 18th
Sagina nodosa (Knotted Pearlwort) was the 1,000 th UK plant to be put on the site today.
November 2nd
Declaring the season over is bound to tempt fate so late in October I found my first ever Datura stramonium (Thorn Apple). It was in fruit only but still a great find. I've kicked the ripe seeds about hoping to see a flower next year. The main effort on October has been in putting library photos on the site so that the total has now reached over 900 with about 150 to go. Target: 1,000 British plants on site by the end of November.
October 21st
I declare the season over....Winter tasks include putting on the remaining photos of UK plants (850 on site so far), putting on the European plants from our Springtime Gozo visit and re doing the European index as it's getting too big, putting on more scenery pages form the library and continuing to learn about PHP and dynamic web page construction. Should keep me out of mischief until it's time to look for Gagea bohemica in January or February.
October 3rd
There are still plants to be seen believe it or not and I hope to see a few more before declaring the season over and retiring to my cave for the winter. It is a slow business putting the new photos on the site but the numbers are creeping up 780 at present but over 200 to add still.
September 15th
I attended the last WFS meeting of the year in Monmouth not expecting very much but actually collecting about 15 new photos including a couple of rarities. The total ready for inclusion on the site is now over 1040 but I don't expect to add any more this year. In fact I need not to be adding more photos and concentrate on adding the ones already in the library to the site. I had hope to add them all by the last day of 2005 but that looks a bit of an optimistic target now. Currently on site there are 738 plants illustrated.
August 25th
Wedding over but with trips away I've done less botanising in this month than any this year including January. Did manage to get Cystopteris dickieana from Cove Bay which isn't really en route to anything else interesting. There remain a daunting pile of over 300 photos to add to the site making a possible total of 1012 species possibly by Christmas or end of January 2006.
August 9th
Things are a bit slow at the moment because of a family wedding involving a marquee in the garden, a roast pig and loads of booze. So only a few added to the library this month with the current total of site plus library photos standing at 1008.
July 25th
Somewhat frustrating trip around North Wales today. I failed to find Eryngium giganteum on Pensarn beach and the Stone parsley which I saw last year in fruit has completely disappeared from Llandudno. Then, thinking I knew the way, I got lost on the Lleyn. Still I recorded Sambucus ebulus (Dwarf Elder) as the 1,000th plant photograph in the library which was satisfying. Eighteen months to acquire one thousand plant photos isn't all that remarkable: I once recorded well over 1,000 plants in one year for my Wild Flower Society diary. Reaching 2,000 plant photos may well take five to ten years but now there are a reasonable number of photos available the site will become more and more useful as a reference.
July 24th
For the first time in about fifteen years, David Jolly and I went to the Southport dunes system to see what we could find. What a terrific place this is! As well as excellent species like Pyrola rotundifolia (Round-leaved Wintergreen ) and Epipactis palustris (Marsh Helleborine) we found the rare Hybrid rush Juncus balticus x Juncus inflexus, Juncus balticus (Baltic Rush) itself and some superb water plants in a little river known as The River Nile (!). There were both Alisma plantago-aquatica (Water plantain) and Baldellia ranunculoides (Lesser water plantain) and both Typha latifolia (Bulrush) and Typha angustifolia (Lesser Bulrush). To cap it all we found all three Centauries: Centaurium erythraea (Common Centaury), Centaurium littorale (Seaside Centaury) and Centaurium pulchellum (Lesser Centaury). This brings my total of photographed plants to 987 of which 683 are on site and the remainder will be placed over the next months. I should have collected over 1,000 photographs of British Isles Wild plants by next week which includes over 150 rarities or so which is not bad for a site first published here in August 2004.
July 14th
Had an excellent trip to Ben Lawers on Monday July 11th. Following a routine which we have used for previous expeditions, I get up at 3.00 am, get to my fellow botanist's house by 4.30 am and we arrive in Scotland for the rush hour. We stopped of in Callander to look for a couple of plants but were on the way up Ben lawers by 10.00 am. If the weather is good and all the flowers are out it takes longer than I thought it would to photograph everything. We did find the Drooping Saxifrage (Saxifraga cernua) this time - I must have walked right past it last year. Back down in the car park by 6.30 pm somewhat dehydrated, we got back home before 1.00 am.
Altogether I added 36 new photographs to the library and have put quite a few of the rarities on the web already. The total number of rare plants illustrated on the site is 148 out of a total of 673 British Wild plants already on site. There are an additional 284 British or Irish wild plant photos yet to add which means the site should keep going during the winter.
July 4th
Plants are only being added slowly to the site at the moment because I'm taking advantage of the warmer weather to go out botanising. There are 904 plant photographs in the library of which 652 are published on the site. There is a new Orchids and Helleborines Index to help find the 30 or so plants in this category.
June 26th
I managed to complete a two day Teesdale trip with the WFS without further injury and photographed another 40 plants some of which I would never be able identify alone. We were shown hybrid willows, subspecies of Yellow rattle, rare Alchemillas and hawkweeds not to mention Bartsia alpina and Helianthemum oelandicum ssp levigatum an English endemic in its only station. The total of UK plants on the site and in the library is now 870 so I have over 200 waiting to be shown and another 50 or so foreign plants.
June 13th
This month is sometimes known as Flaming June but it's been anything but that for the first few days- at least here in the North of the UK. In the South however they've had to bring in hosepipe bans for some Counties while our northern reservoirs are almost 99% full. My second WFS trip of the year to North Yorkshire was supposed to be a two day meeting but I managed only one day. During the trip to Fen Bog I confidently stepped on a tussock of grass which gave way and one leg went right into the thick black oily mud of the bog. Fortunately I keep a change of clothing in the car for exactly such an occurrence ever since it happened much more drastically to a friend who went in up to his waist but within 20 minutes was re clothed in warm dry togs.
Getting dry wasn't the problem. In trying to stop myself falling in I twisted a knee and sprained a finger so that by the end of the day was in no fit state to contemplate another day's trekking around the countryside of North Yorkshire. We still saw a fair few good plants on the one day although the trip to see Maianthemum bifolium ended in disappointment with leaves only showing. The site is making steady progress with a good cross section of flowers, grasses, trees, ferns and horsetails representing the flora of these islands. So far there are about 620 plants actually displayed on the main site with a current total of 767 including those in the pending tray, another 50 identified lowers from our trip to Gozo plus a further 30 as yet unidentified.
On this last trip we were shown a plant with no name. it is a hybrid dianthus which has colonised the cliffs at Whitby and has been found by genetic study to contain elements of at least three species. The experts at Kew have refused to name it but it doesn't seem to care.
June 1st
May was an excellent month for plant hunting although I didn't add as many to the site as in April. I expect this will continue to be the pattern because when the sun is shining I'm taking photos and adding them to the pending tray rather than updating the site. There are now 718 photos of UK plants either added or in the pending tray to date with over 120 of those being rarities.
The Burren trip was a huge success with almost all the plants we had hoped to see being found. We also found the very rare Simethis planifolia (Kerry Lily) at the extreme tip of the Ring of Kerry to my great delight.
May 19th
This has been a good month for plant hunting. A fair few of the days have been sunny although the wind has been bothersome for photographing tall plants and shrubs. I am accumulating photographs much faster than I can put them on the Web at the moment which is to be expected as May, June and July are the main flowering months in the UK. At present there are 606 UK plants on site with another 90 or so waiting in the pending tray. There'll be nothing added for at least four days though because with two friends I'm about to visit the Burren in the West of Ireland - weather forecast is rain, heavy rain and rain. Triffic.
May 6th
An excellent plant hunting day in the Great Orme turned sour when, as I was photographing what I thought was the last plant of the day I noticed my camera bag had become unzipped. The pouch where I keep spare batteries was totally undone and only one battery remained. One was in the camera and that meant that three were missing. These are special rechargeable Nikon 8800 batteries and at £72 each they are very expensive. I retraced my steps and found one of them and on return home was delighted to find another which meant I had actually lost only one.
This is what it looks like: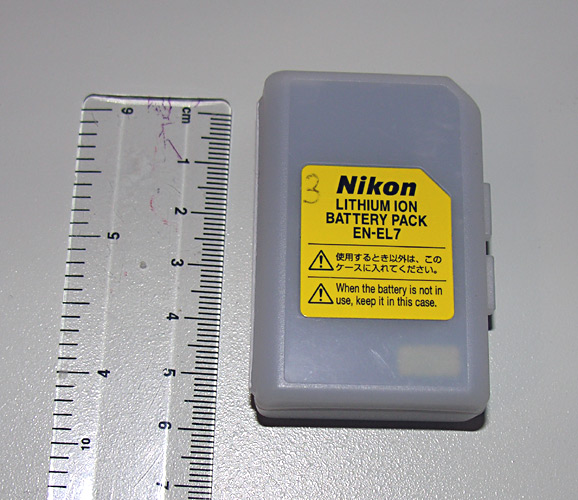 So if you are wandering round the cliffs at the top end of Llandudno West Shore or on the RSPB reserve at Deganwy and find one like this with a 1 in where the 3 is scrawled on the case, then its mine! so email me please.
May 1st
What an excellent month April turned out to be for finding and photographing plants. Loads of rarities and excellent common plants as well. Altogether I've added more than 120 plants to the collection in 2005 although more than 50 foreign and 40 UK plants are waiting to be put on site. I expect the in-tray to get bigger rather than smaller though- I must take very advantage of good weather to get out there looking for plants and leave the admin until the evenings.
April 16th
Today started with rain and it was still gloomy at Manchester Airport. By the time we landed at Guernsey the sun was beginning to show and we had sunshine, blue skies and warmth for our first serious botanical trip of 2005. Zoomed round the island seeing Romulea columnae, Romulea rosea, Spergularia bocconei, Anogramma leptophylla, Viola kitaibeliana, Milium vernale and many others. According to the met office Guernsey was the sunniest place in the UK on Saturday 16th.
Loads of excellent plants seen and photographed but they will take time to add to the site.
April 15th
Today is another gloomy cold day with few opportunities to photograph flowers because the light is so bad.
We've been anxiously studying the weather forecasts for Saturday as we have a special botanical trip planned. A fellow botanist and I have arranged to meet a local expert to see the Spring Flowers on Guernsey. The forecast isn't too bad although temperatures are predicted to be no higher than 10C. This will be like a military operation: met at Guernsey Airport after flying from Manchester at 10.30 am, no luggage so straight to first site. Butties and drinks already in haversack so no stopping for a long lunch break. Zoom round the sites of botanical interest, back to airport by 4 pm and home again by 7.00 pm. I hope to publish the first flower photos the same evening if all goes well.
April 9th
Added more thumbnail indexes to the site so you can browse small photos without knowing the name of the plant you want.
April 8th
Today was one of those days which reminds you how changeable the UK weather can be. Sunny spells with cloud and rain were forecast but with a chill wind and an external temperature less than the magic 10C when most flowers will open. As I was taking a picture of a grass near a cherry tree there seemed to be rather an excess of blossom falling on my shoulders and the camera. I noticed then that the blossom melted - a flurry snow in April!
March 29th
A sunny day in Anglesey enabled me to find both Teesdalia nudicaulis (Shepherd's Cress) and Mibora minima (Early Sand-grass) my first RR rarity of the year. There are about 14 plant photos now waiting to be added to the UK list as well as the 50 or so to the European so when the inevitable wet days arrive I'll have plenty to do.
March 28th
Nothing has been added for 10 days as we were on holiday on the Mediterranean island of Gozo near Malta. Solid blue sky and sunshine with temperatures above 20C means that I have about 80 photos to add to the European section at some time. 54 plants have been identified so far. Gozo doesn't have a huge variety of plants in flower compared with say Crete or Cyprus but at this time of year it is covered in flowers and the contrast with our flora in the UK is quite stark. Still Spring is here and so there are some plants to add to the site just from a local walk in Cheshire.
March 18th
Today was definitely the first day of Spring. The air temperature went to 19C in the afternoon and there was just a little breeze with the sun shining for most of the day. I found my first rarity of the year: Daphne mezereon (Mezereon) which was in exactly the same place (Cressbrookdale in Derbyshire) I first saw it fifteen years ago. The coltsfoot, butterbur, celandines, Golden Saxifrages and Daphnes were all in flower even though this landscape had been under snow on March 3rd (see below). I also saw two tortoiseshell butterflies(one at home and one in Derbyshire) and no less than four Brimstones all in different locations. Butterflies, bumble bees, ladybirds, birdsong and Spring flowers by a clear fast flowing river - magic!
March 17th
Today the external temperature went up to 16C in the morning and stayed above 10C all day. The flowers in the wild and in gardens have started to bloom at a much faster rate and I found three new wild plants Pulmonaria officinalis (Lungwort), Viola reichenbachiana (Wood Dog violet) and Narcissus pseudonarcissus (Daffodil) after a barren spell of about 10 days.
March 14th
Temperatures are beginning to rise but cloudy, rainy weather accompanies the "warmth". So far we have not had one single day in 2005 where the weather has been sunny and the day temperature above 10C. Who do I complain to? Going to a Mediterranean Island in a few days - lets hope there are some Spring flowers there.
March 12th
Winter hasn't gone yet although the daffodils are out in the garden. This was a mild winter at first but Spring is much delayed now. No additions because there isn't anything much in flower out there. Temperatures are supposed to rise next week though - here's hoping.
March 3rd
Winter is still with us and the TV news is full of snowy roads and stories of the gritters being out all night to keep the highways clear. The cold weather is blowing in from Eastern Europe so the Eastern side of the country gets the worst of it. Here in the West there is little snow but each night the frost ices the ponds and car windscreens. All this after a fairly mild December, January and early February.
I went to the White peak (Derbyshire) today. The name refers to the whiteness of the limestone rather than the snow covered hills which were devoid of any signs of Spring. In past years I have seen quite a few Spring plants in this area but not this year. The temperature difference between the White peak (34F) and Cheshire (46F) was very marked for only a 50 mile journey. In spite of the winter weather today I found the first Coltsfoot (Tussilago farfara) in flower and a very tiny Lesser chickweed (Stellaria pallida) which proved extremely difficult to photograph.
February 24th
Never presume to predict the weather in these islands - winter has arrived with winds, low temperatures and flurries of snow. The snow clouds are being blown in from Siberia so the east of country is affected worst. As Cheshire is in the West it isn't so bad - yet. In the meantime I've created something I've wanted for some time: a thumbnail index. All the plants are now on the plant thumbnail index but since there are nearly over 500 plants this means a fast connection is needed for this total index to load in under a minute. If you know the name of the plant then the Latin or English indexes are quicker but browsing is always easiest with a name and a picture.
February 17th
Just come back from a delightful short stay in the Cotswolds - a part of the country I hadn't visited before. It is very bit as beautiful as people say with its chocolate-box villages and rolling hills. The plants were making progress too and we found , Eranthis hyemalis (Winter Aconite), Corylus avellana (Hazel), Galanthus nivalis (Snowdrop), Viola odorata (Sweet Violet), Adoxa moschatellina (Town-hall Clock), Primula vulgaris (Primrose), Mercurialis perennis (Dog's-mercury), Vinca minor (Lesser Periwinkle) as well as the exotic, introduced hellebores Helleborus argutifolius (Corsican Hellebore) and Helleborus orientalis (Lenten-rose). There'll be setbacks inevitably but Spring is on the way it seems.
February 6th
Finished a complete overhaul of the flower pages to make them consistent with accepted web standards. They should be rendered reasonably on most modern browsers now. Lots of bad luck with early flowers. I couldn't find the Helleborus viridis in North Lancs and I've just contacted the warden to see if I can get a photo of the Radnor Lily (Gagea bohemica)which is an early flowerer. So early in fact that I've just learned there's only one flower bud left! - all the others have finished so I may have to wait until next year.
January 23rd
The best winter weather is here now in Cheshire UK. Clear skies at night leading to frost which melts in the morning sunshine but with the North wind comes low temperatures and little chance of finding anything new in flower. Still, looking at the TV pictures of the snow and ice on the Eastern states of the US, we should be grateful for such relatively mild weather. There are still quite a few European plants from the library to add to the site - enough to keep one a day until the beginning of February at least.
January 19th
The steel grey skies let in a little more light than usual this morning so I dashed off the North Wales to see if anything was showing. The Petasites albus (White Butterbur) site which I found a couple of years ago in North Wales was just coming into flower but not being used to my new camera I took all the photos with the wrong white balance - this camera doesn't reset the values when you switch if off. I must remember to check all settings before shooting in future. On the way I saw several clumps of Tanacetum vulgare (Tansy) in full flower - weird! This is a plant of high summer which never survives even our mild winters - or so I thought.
January 16th
This winter sunshine is very deceptive. What appears to be a bright sunny day to me is dull and without much light according to the camera's readings, so depth of focus suffers somewhat. Erophila verna is just starting to flower so it will be worth looking for other very early Spring flowers like Coltsfoot (Tussilago farfara). Lesser Celandine (Ranunculus ficaria) is in flower all over the place.
January 13th
Took delivery of my new camera yesterday (Nikon 8800) and haven't yet worked out what all the functions and controls are but today I went for the first botanical photo hunt of the new year and took some reasonable photos of Hebe x franciscana which flowers very early here.
January 10th
Weather fine today so I went for a plant hunt and found 30 in flower including some unusual hangers-on: Hypochaeris radicata (Cat's-ear) and Ballota nigra (Black Horehound). There are 505 pages of plants, butterflies etc on site now - not bad for 6 months work.
January 5th
Added the last plant (Spegularia rubra) from the library of 79 plants photographed on our summer excursion to the Guernsey and Jersey in 2004. I have added a specific Channel Island Index.
January 4th
There are very few UK plants to add now so I've started the laborious task of classifying and identifying the plants taken whilst on holiday in Cyprus, Austria and Slovenia.
I bought the digital camera in 2001 so I've collected probably about 30 or so photos of plants add to the site. In those early days I didn't bracket the exposures so many of them turned out under or worse, over-exposed and can't be published but some are OK. Identifying is a problem as I have no systematic way of doing this. I have about six European Flora books so if I find a flower which looks like one one of mine I check for similar pictures on the web.